War Cross
3 stars & 2 palms
This web site purpose is to honour a heavy bomber crew's bravery during the Second World War. Their plane the Halifax 'L' was based in Elvington, near the city of York, U.K.
We take this opportunity to thanks the two thousand French members of staff, also based in Elvington, whose determination helped France to recover their freedom.
Two French squadrons of heavy bombers were based in Elvington, as follows :


The 2/23 Guyenne - Squadron 346 - No H7 and the 1/25 Tunisie - Squadron 347 - No L8

All these crews, 100% French staffed, carried out their tasks mostly during night time. They paid the heavy price of losing 25% of their comrades over the enemy territory and they also lost 21 aircraft over the 42 that composed both squadrons.
We wish that this visit brings you, through the images and various comments, a sense of respect for these brave men and some admiration for their aircraft.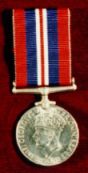 War Medal 39-45
(all units)